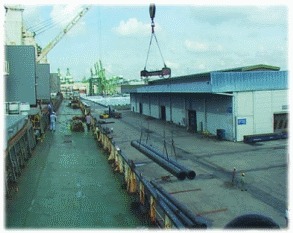 The chartering department of Richfield Marine Agencies (S) Pte Ltd is one of the most active independent chartering shipbrokers in the handy-size sector.

Richfield offers transport solutions on competitive terms by specializing in the dry-bulk shipping.

The company is fixing regularly for owners and charterers under voyage charter, time-charter and/or time-charter trip since 1988.

Bulk shipments fixing regularly are Phosphates, Soda Ash, Fertilizer, Resin, Maize, Urea, Salt, Feldspar, Steel Billet, Steel Coil, Rice, Sugar, Scrap Iron, Iron Ore, Coal, Sodium Sulphate, Paper-Pulp, Zine, Met Coke, Pig Iron, Timber, Plywood, Woodpulp, Rubber, Palm Oil, Round Log and many others in bags, bulk, crates, bundles etc.

By means of diversification, specification and active exploitation of its strong position in the Far East, Southeast Asia, West Africa and Australia, Richfield offers worldwide shipowners and charterers integrated transport services with a high degree of flexibility tonnages and cargoes.

Richfield has built up a large network of charterers, shippers, owners, operators and brokers and is the preferred choice of chartering partner in the dry-bulk sector.